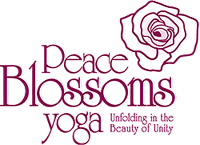 The day came when the risk to remain tight in a bud was more painful than the risk it took to blossom. ~ Anais Nin
Welcome to nurturing your wholeness through feminine ways of knowing
I offer you a spiritual yoga for women who are ready to unfold and live a joy-based, fulfilled and meaningful life.
Why Blossoming?
B L O S S O M:
I've been in love with flowers since I was a very small little girl, picking bachelor buttons and forget-me-nots, pansies, precious weeds and of course, roses.
The unfolding of our life, our feminine souls, takes care, nourishment, guidance, or watering (pouring in some dedicated effort) and weeding out what doesn't flourish, much like a rose in the garden. Much like our presence, it takes effort and surrender to the mystery of life.
B - Balance above all, beauty, body, bliss
L - Love is all there is, luscious living an art, learning to let go
O - Open up and own your vulnerable spaces, observe
S - Start with self-care, see, smell and savor the roses of life, sift through struggle, serenity in silence
S - Strength is in surrender
O - OM is harmony and peace, ONENESS
M - Moving in presence, magnificent as you are, meditation to reconnect, moon flow and mastery
How Will You Blossom?
NEW IN JANUARY 2018:
​
LAKSHMI Workshop: Blossom your inner goddess this new year
Saturday January 13 at the Lotus Studio Sedona, 2050 Yavapai Dr, Sedona, Az 86336
​
The Feminine way: yogini temple is a unique opportunity to connect, experience and discover your radiance, touch into your deepest self and blossom inside out.
Peace Blossoms Yoga classes meet you right where you are in this present moment. Each class welcomes you to practice at the level to which you are most comfortable. Yoga is a practice of attentive listening!
In Peace Blossoms Yoga Group Classes, you are guided to listen to your body wisdom, and find supportive guidance for learning asana skills and attending to what is here now. There is an emphasis of aligning with the present moment through breath and movement, attending to your unique expression, and including deep relaxation.
Each 80 or 90 -minute long group yoga class is appropriate for those who have limited experience with the essential unifying nature of yoga as well as seasoned yogis. You will learn safe alignment and receive compassionate attention and supportive instruction in movement asana and breathing techniques. Learn the fine art of restoration in the final phase of each class experience.
Each class encourages you to recognize yourself as already whole so that you may release fully and receive the gift of presence.
How to begin:
​
Jane is transitioning her location as of spring 2017, with no current weekly yoga classes.
​
There are no yoga passes at present. Would love to have you join me in special programs this spring.
​
​
2) For a more committed and in-depth experience of women's yoga and spirituality, contact Jane for private mentoring.
3) Enter the temple of your sacred sisterhood: join the Inner Goddess Women's Temple monthly group, a dedicated circle of deep listening, support and nourishment just for you. We practice and celebrate our feminine way of knowing- like yoga, we come as we are and nourish our essence.
4) You may choose from Private Mentoring with Jane, commit to a longer, full year program of feminine spirituality, and attend one of our women's nourishment Retreats for accessing the inner power of women's yoga in community.
5) The Blooming the Inner Goddess Program takes you beyond the mat, out into your life! This 9 -month immersion is based on seasons and moon cycles, winter, spring summer and fall as these highlight a woman's own knowing and moving through the energy centers. Email for a discovery session with Jane today! THIS PROGRAM IS ON HOLD_ CHECK BACK!
Why yoga for women?
Yoga is Love, and I love how yoga supports us as modern women in yoga today, especially in learning to accept, honor and deeply celebrate ourselves, and come into full bloom. As we come into our own healing and balance of the sacred feminine, we bloom and we spread our gifts out from BALANCE.
The path of yoga is inclusive. Yes, the rich legacy of the goddess teachings gives us, as women today, a rare opportunity to go within and create our own sacred space. We love and accept ourselves in our strengths, our cycles, we heal old wounds and celebrate these powerful feminine beings that we are. As we women in yoga integrate ourselves, we offer much love and healing into our relationships, serving more profoundly the world today with our sacred gifts of connecting on a soulful level and intuitive guidance.
Being on my own soul journey (see 'About Jane' page) as well as mentoring and guiding many women in yoga, I have found that:
1) Woman tend to a lot of "gardens" in their modern, busy lives, but forget the most essential inner blossoming comes from empowering oneself. This balance comes from the inside out and our feminine embodiment.
2) Aligning with your sacred energy centers softens your edges of resistance and transforms your limited beliefs, so that you may find self- love and healing physically old habits of being.
3) When women learn to trust and honor their natural growth cycles throughout their lives and come to full bloom through kindness and acceptance, their body, heart and mind are free to be.
4) Your inner goddess is waiting….. with arms wide open.
Hope to see you in the yoga program of your choice soon!
"Life without love is like a tree without blossom or fruit."
- Kahlil Gibran